What is the best way to get an idea out of your head and into a video format? Each time I start working on a film project, this question shows up. In this new film class for Skillshare, I wanted to point my camera towards this question and share everything I've learned about it with you.
In "Indie Filmmaking: Transform Your Idea Into Video" - You will learn how to develop, write, produce, film and edit a short video out of your original idea. You can choose what kind of video you want to make:
Film Scene (with or without dialogue)
Film Sequence (experimental, atmospheric)
Short Film (story)
My name is Olaf de Fleur, I'm a DIY director from Iceland with over twenty years of experience. I've worked with Academy Nominee's Florence Pugh (Black Widow, Little Women), Johnathan Price (Brazil), along with James Cosmo (Braveheart), Michael Imperioli (Sopranos), Giancarlo Esposito (Breaking Bad, Mandalorian).
ALL YOU NEED for this class is a camera, something to write on, and a computer to edit your film. This class is for anyone who is starting or has done a couple of film projects; in either case, this class will help you get your idea into a video format.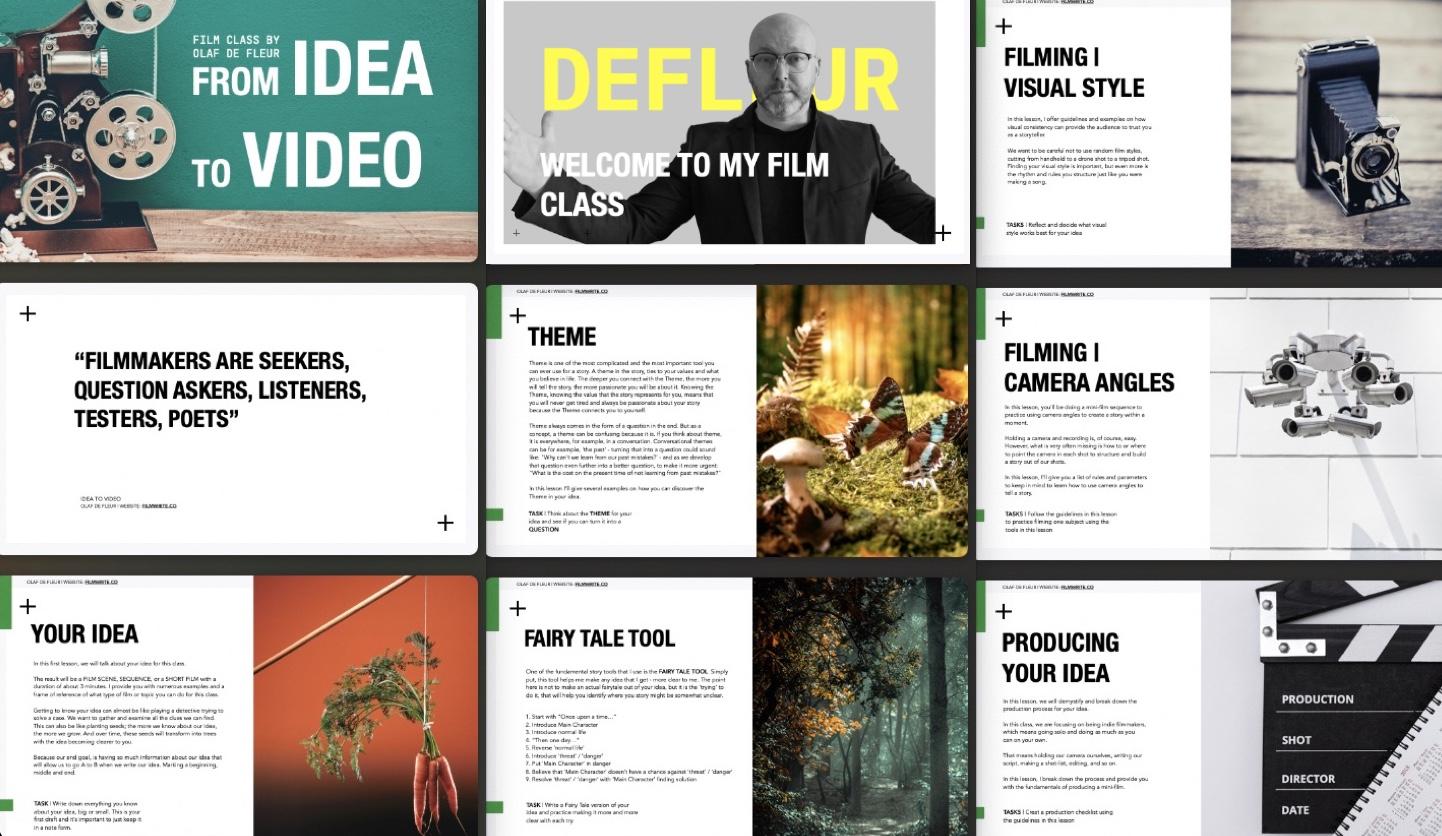 This Film Class will not only demystify the filmmaking process, but it'll also illuminate your creative strengths and help you identify areas of improvement on your path of becoming a visual storyteller.  Here are some of the things you'll learn in this class:
📽️
> Experience hands-on complete film production cycle
> Extract your original idea into a video format
> How to develop your idea before you start writing or filming
> Receive tips that can save you from unnecessary agony
> Complete a video on a micro-budget
> Enhance your visual storytelling ability
IN THIS CLASS we'll discuss how to apply film angels and visual style to create a story in a moment, using metaphors to develop your idea, symbols, posters, theme, cinematography as we move into writing and filming your idea. Click here to visit the class page on Skillshare.
MY FILM CLASSES
I am a dedicated DO-IT-YOURSELF filmmaker and have made classes on Skillshare about making a short film, screenwriting, documentaries, and trailer editing. In this class, I'm sharing all my tools on how you can take an idea from your head and bring it to the real world.
TESTIMONIALS
"Olaf's experience and compassion is a unique resource for all who are open and ready" Giancarlo Esposito, actor, Breaking Bad
"Olaf's coaching helped me realize I was ready to write my first film. What for many years seemed daunting, became possible because of his expertise and warrior spirit." Suilma Rodriguez, actress
"Olaf's ability to see beyond the surface is like conjuring. I am forever grateful for his pragmatic, and expansive guidance." Jesse Megan Eidsness, CEO of Wild Love Apothecary
"I mentored Olaf and I'm happy he's spreading his wisdom" Dr. Jeff Spencer, The Cornerman Coach
---